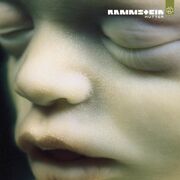 Mutter (German for "Mother") is Rammstein's third album. It was released on 2 April 2001.
Track listing
Edit
Special Tour Edition
Edit
"Ich will" (live) - 3:57
"Links 2-3-4" (live) - 4:54
"Sonne" (live) - 4:42
"Spieluhr" (live) - 5:27
The Japanese version included the song Halleluja as a hidden track. A special tour edition was made with a second CD with some live versions of some tracks present on the album. Other versions included a poster and a second disc with "Hallelujah" and the Sonne video.
'Links 2 3 4' appears in the sex shop of the CSI episode, 'What's Eating Gilbert Grissom?'
'Feuer frei' appears on the xXx movie soundtrack, and Rammstein appears in the movie playing the song. It is the theme song of the movie, and was featured in trailers and previews.